Aftercare is a solution driven environmental firm in Virginia and North Carolina with more than 20+ years experience in providing quality emergency response remediation services.
aftercare cleans

what you should never have to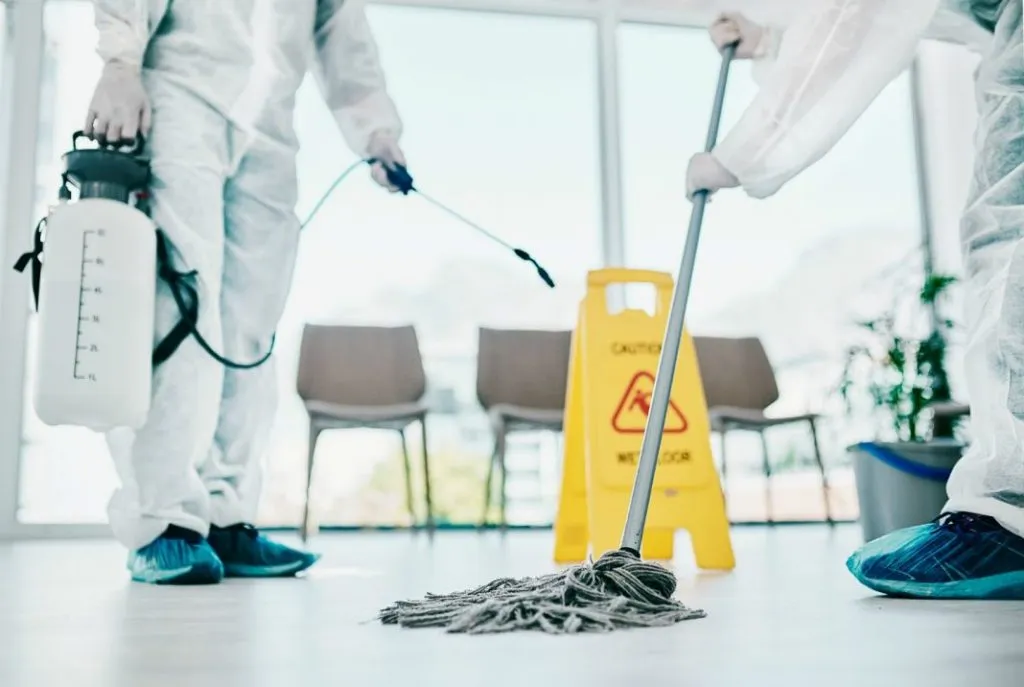 CONTAGIOUS DISEASE CLEAN UP
Contagious Disease Clean up experts in Virginia and North Carolina areas
Viral breakouts
COVID-19
C-diff
SARS-CoV-2
Tuberculosis
Coronavirus Contamination
Blood Borne Pathogenss
Workplace sickness
HIV/AIDS
   Work areas are very susceptible to microorganisms, Viral breakouts and bacteria contamination, this is due to many humans being in contact with each other in close proximities.
       Cubicles, bathrooms, employee breakrooms and offices are constantly being shared with numerous workers; this cross-contamination breads disease and sickness. If one worker is sick it doesn't take long for this contamination to spread to all surrounding workers. Over the years Aftercare sees more people going to work when they are not feeling well. This has resulted in a explosion of office related illnesses. Costing employers billions in lost office production.
How does a viral breakout in an office effect workers?
The sick employee leaves the foot print for epidemic; which moves swiftly throughout all work areas. This creates a stressful environment for the entire office. Workers are constantly thinking about how safe their environment is cutting into their work production.
Aftercare specializes in the cleaning and disinfecting work place infection breakouts. Our technicians start with a walk thru of the contaminated area to better understand the movement of the business.
Always disinfecting high to low keeps cross contamination out of the area being cleaned. Fogging with the proper chemicals reaches many areas that are inaccessible.
Aftercare will start with a fogging process throughout all the building. 30 min dwell time.
Our cleaners will then start to wipe down all hard surfaces from top to bottom and from back to front of business. Chemicals will be left on surfaces for proper kill times.
Follow-up with a rinsing process to remove residue and further breakdown of contamination / sickness.
Final disinfection mist to eliminate any airborne contamination.
Aftercare services restore confidence to management and staff resulting in a more productive and safe environment.
If you are a business owner or someone in charge of a commercial property and you need contagious disease disinfection service, just give Aftercare a call at 757-535-4367. Our cleaning technicians are available day and night, 7 days a week. Aftercare provides a free estimate over the phone, and our services are covered by most homeowners and business liability insurance.
" I was pleased with how the company handled the unfortunate situation. They are very good at knowing what needs to be done and providing me with excellent advice. They help me with every process. I recommend them. "
- VIctor Scott
" Always answer my calls and give me the best advice that suits my situation. They did a great job in Covid cleaning. Very detailed and well-focused. "
- Nancy Lee
" Aftercare is a phenomenal company owned by a great guy. James was extremely sympathetic of the situation at hand. Called him and he was willing to come and clean up immediately. Very fair priced and quick. Highly recommended!!! "
- andrew Goszkowicz
" James and his crew did an amazing job with the aftercare of my uncles apt after he passed away. We were so impressed after we went in the apt when they were done. We highly recommend these guys for anything you need done. "
- lisa Garcia
24/7 Emergency Cleaning Services in Virginia & North Carolina
Here at Aftercare, we've provided premium, emergency remediation services to residents and businesses in Eastern Virginia and North Carolina for nearly two decades. We specialize in cleaning up contaminated scenes that people would rather avoid, and we're fully qualified to dispose of hazardous and contaminated materials and substances in accordance with the regulations set out by the Environmental Protection Agency and the OSHA.
Our services are covered by most Homeowners Insurance Policies and/or General Business Liability