There's more to crime scene cleaning than just mopping up pools of blood and cleaning bodily fluids of decaying bodies. An area might appear clean to the naked eye, but that doesn't mean it's free of biohazardous material as well. You have to ensure that the area is free of harmful pathogens to prevent the spread of unwanted diseases and infections. Maids and carpet cleaners do a good job at general household cleanups, but they don't effectively sanitize the areas they clean. This could leave dangerous biological material which can pose a risk to human health.
Today we'll be discussing what makes crime scene cleanups different from standard cleaning procedures like carpet and household cleanups.
What exactly do crime scene cleaners do?
Crime scene cleaners are technicians that specialise in the cleanup and removal of biohazardous material caused by unattended deaths, suicides, and other trauma-related incidents. These technicians undergo strict training procedures to safely handle biohazardous material. They know what to look for at the site because failing to cleanup even the slightest bit of pathogens can cause serious illness to people around it.
Crime scene cleaners arrive at the cleanup site with a plethora of cleaning equipment that most maids and carpet cleaning companies don't have. Some of the tools they use for cleaning crime scene sites are:
Hospital-grade disinfectants
Enzyme solvents (to liquefy dried blood and kill bacteria & viruses)
Ozone machine (to remove strong, foul odours)
Chemical treatment tank
Steam injection machines (to melt hardened brain matter)
ATP fluorescence testing units
Biohazard disposable containers
Each crime scene cleanup comes with its own unique challenges. In suicide cases where a person cuts their writs, blood is scattered everywhere. The cleaners have to approach the situation and treat each drop of blood as if it were carrying bloodborne pathogens like hepatitis B and HIV. It's the reason why crime scene cleanups are much more complex than say carpet cleaning because it goes beyond cosmetic purposes. The goal is to not only clean the site, but also disinfect it as well.
How are crime scene cleanups different from other cleaning services?
Crime scene cleaning requires experience and expertise, especially when dealing with biohazardous material. You can't just mop up bodily fluids and call it a day. Typical cleaning services from maids and cleaning companies won't suffice because of how unpredictable crime scene cleanups can be. Some situations crime scene technicians face on a regular basis are: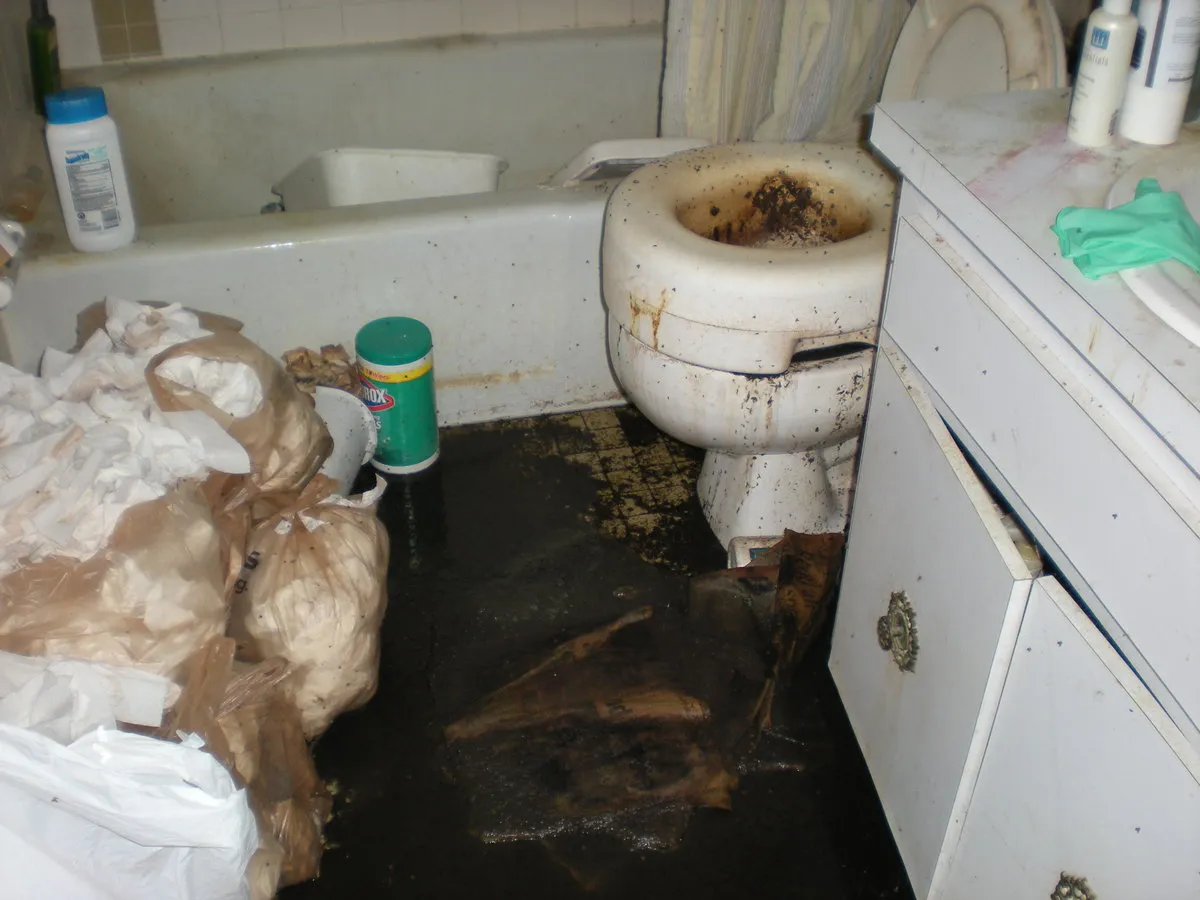 Hoarding cleanups
Hoarding cleanups can be both challenging and dangerous. While typical cleaning services will remove the hoarded items and clean out the property, they don't pay attention to sanitizing the area. A hoarded property is riddled with all kinds of bacteria and filth so it's important to not only clean, but also disinfect each area of the property to prevent the spread of unwanted diseases.
Sewage space cleanup
Sewage space cleanup is a messy ordeal. The filth coming from cracked sewage pipes are full of bacteria and the raw sewage carries an unpleasant odour. Trash and debris are carefully removed and an antimicrobial solution is used to sanitize the flooded areas. Industrial fans are used once the cleaning procedure is complete to effectively dry out the affected spaces.
Unattended deaths
Unattended deaths are one of the most challenging situations crime scene technicians can encounter. The detrimental effects of an unattended death should never be understated, especially if the body has been decaying for days. If not properly cleaned and sanitized, it can negatively impact the health and well-being of future occupants.
Communicable disease wipedowns
MRSA, salmonella, HIV, and hepatitis B are communicable diseases that can spread quickly if a property or institution gets contaminated. Crime scene technicians disinfect the affected areas using hospital-grade disinfectants to avoid the spread of unwanted diseases.
Cleanup training and background requirements
While crime scene cleaning may not be an officially regulated industry, there are certain guidelines and regulations technicians must meet to ensure their health and safety during operation. These protocols are supervised by the Occupational Health and Safety Administration (OSHA) and the National Institute of Occupational Safety and Health (NIOSH). Crime scene cleaners should comply with the following requirements in order to be an effective cleaning technician:
Compassion – Crime scene cleaners should be prepared to handle even the most traumatic of circumstances with calmness and composure. Having the compassion is necessary to be able to provide the families with the support they need.
Proper training – Technicians should undergo training such as biohazard cleanup and bloodborne training. Handling biohazardous material requires knowledge and expertise and crime scene cleaners should know how to deal with biological material in a safe and efficient manner.
Commitment – Working in the crime scene cleaning industry requires a lot of dedication. More often than not, crime scene cleaning services are required during odd hours which means that the technicians should have flexible work hours and availability.
Physically fit – Technicians should be physically fit since crime scene cleanups can be challenging. Some cleanups can last for up to 12 hours depending on the complexity of the situation. Crime scene cleaners should possess the stamina needed to complete such challenging tasks.
Conclusion
When it comes to cleaning up biohazardous material, maids & carpet cleaning companies are not enough. You want industry professionals to deal with remedial cleaning situations to ensure the health and safety of the families involved. Make sure to acquire the services of a professional crime scene cleanup company for any remediation cleanups.